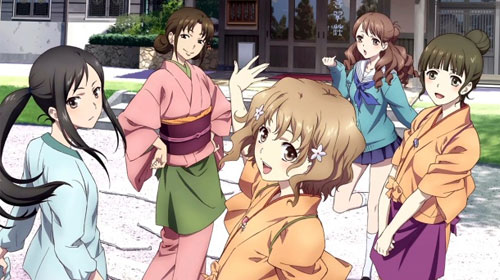 Hanasaku Iroha [花咲くいろは]
Episodes: 26
Status: Ongoing
Producers: P.A. Works
Genre: Comedy, Slice of Life, Drama, Seinen
Hanasaku Iroha centers around Ohana Matsumae, a 16-year-old teenager living in Tokyo, who is left in the care of her estranged grandmother, following her mother's elopement with her boyfriend. Ohana arrives at her grandmother's country estate to realize she is the owner of a Taishō period hot spring inn called Kissuisō. She begins working at Kissuisō, at her grandmother's request, but finds herself at ends with many employees and customers at the inn. Initially feeling discouraged, she decides to use her circumstances as an opportunity to change herself for the better and to make amends with her deteriorating relationship with the Kissuisō staff for a more prominent future.
Main Characters
Spoiler:

Ohana Matsumae [松前 緒花]

Ohana Matsumae is the 16-year-old protagonist of Hanasaku Iroha. She is sent to live at her estranged grandmother's hot spring inn, Kissuisō, after her mother elopes with her boyfriend to evade his debt. At her grandmother's demand, she works at the inn as compensation for staying there. Usually energetic and optimistic, Ohana has yet to realize her dream and works hard to prove herself in this new environment. She has many ideals, particularly a strong sense of justice that clashes with the other people working at the inn, including her grandmother. Her desire to help others usually end up backfiring or goes unappreciated. As a result of poor parenting, Ohana learned from a young age that she can only rely on herself. However, since working at Kissuisō, she has realized how tough it is to go through life alone and begins to rely on others.

Nako Oshimizu [押水 菜子]

Oshimizu Nako is a 17-year-old cleaning maid and waitress working part-time at Kissuisō. She has a shy and timid personality but started working at Kissuisō because she wanted to change her personality. She is, however, confident about her swimming ability, which she started when she was only three. She was nicknamed Kappappa after Kappa for her skill at swimming. Nako and Minko are close friends. She is in the same high school as Ohana, Minko, and Yuina. Her nickname is Nakochi and her least favorite food is taro.

Minko Tsurugi [鶴来 民子]

Tsurugi Minko is a 17-year-old apprentice chef and resident at Kissuisō. Her beautiful looks hide a very cold demeanor, such as when she told Ohana to 'die' on their first encounter. However, Ohana has slowly softened Minko's personality and she settles for calling her a balut instead. Against her parents' wishes, her dream is to become a professional chef, resulting in her search for training opportunities. Her search led her to Kissuisō, where she pleaded for a job opportunity. It was Tohru who eventually convinced the manager to hire her. She is dedicated to her job and displays great jealousy when Ohana is praised by the other staff members. Minko goes to the same high school as Ohana, Nako, and Yuina. At school, she is considered a "princess" because of her cold personality matched by her beautiful looks, but she rejects them all because of her crush on Tohru. Her nickname is Minchi and her least favorite food is spinach.

Yuina Wakura [和倉 結名]

Yuina is the 16-year-old daughter and heiress to the Fukuya Inn, the rival inn of Kissuisō. She is in the same high school as Ohana, Minko, and Nako. She is the other "princess" in school due to her beauty and her eccentric accents which often change.

Kōichi Tanemura [種村 孝一]

Kōichi is a 16-year-old teenager who is Ohana's best friend. He and Ohana attended the same high school back in Tokyo. Kōichi confessed his feelings to Ohana before her departure, but was too afraid to hear her answer and ran away. He sent her a text message a few days later telling her to try her best. Ohana calls him Kō-chan.

Tōru Miyagishi [宮岸 徹]

A 23-year-old junior chef working at Kissuisō. He is very outspoken and easily frustrated. He strictly mentors and supervises Minko's training. Ohana was initially intimidated by him, but has since developed a dislike to Tōru. However, Tōru appears to have become somewhat smitten with Ohana.
Last edited by Ushio on Thu May 12, 2011 8:08 am; edited 2 times in total